Everyone knows that a Disney parade is an amazing event to watch. Have you seen any of the night time parades? There's something special about watching a parade in the dark. Disney makes a night time parade magical by filling up the floats and performers with lots of lights and sparkle. Kelly's new collection today is perfect for scrapping any of the night parades and shows.
Inside this kit you'll find a castle outline, light bulb, flowers, starbursts, music notes, word strips, glitter dust, frames, flairs, ribbons, stars, strings of lights, buttons and more. There's 15 papers in dark night colors along with a silver sparkle dot alpha.
Kelly also has a set of page starters, word art and journal cards. These are so beautiful!
Here's a new set of Pocket Story templates. They feature an oversized photo block. Perfect when you want to highlight a special photo.
You can find this sparkly new collection inside the
Kellybell Designs Store
. For this weekend only, it will be priced at 25% off so make sure you pick it up soon to get the discount!
It's so fun to see all the Creative Team layouts. Seeing them helps you to visualize how you might be able to scrap with this new collection. You can find all the CT layouts at
Kelly's Blog
or
Kelly's Facebook Page
. Here's my layout.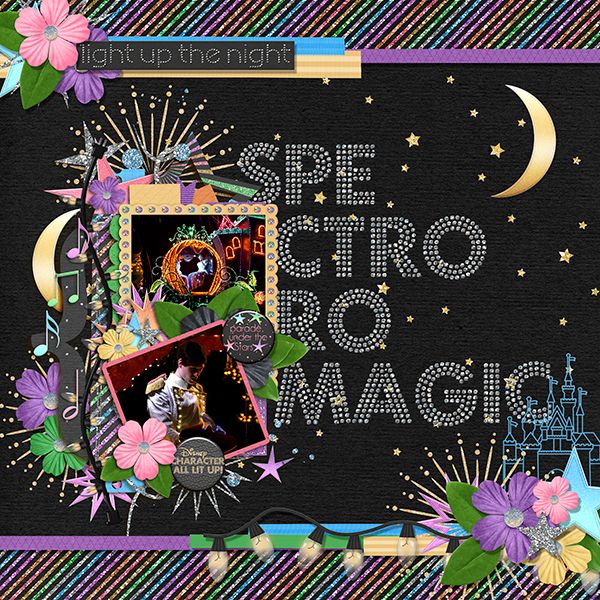 And now for my freebie. Kelly's CT gals have made 3 freebie paper stacks for you. They match perfectly with the new Spectrofun collection. You can pick them up at
Lisa's Blog
,
Jenn's Blog
and and mine below! Give the gals a hug along the way. Have a wonderful and magical weekend!