Welcome to 2015! Time to dust off your scrapping skills and get ready for another year of monthly blog challenges from Kellybell Designs. There's lots of fun themes planned each month! To kick things off, Kelly's starting simple with a challenge that consists of one photo only. See below for all the juicy details.

If you submit a layout, you'll receive an absolutely gorgeous word art title made by CT member Jessica. Wow, isn't that just amazing? You better get your layout done on time, you don't want to miss out on this Magic Kingdom title.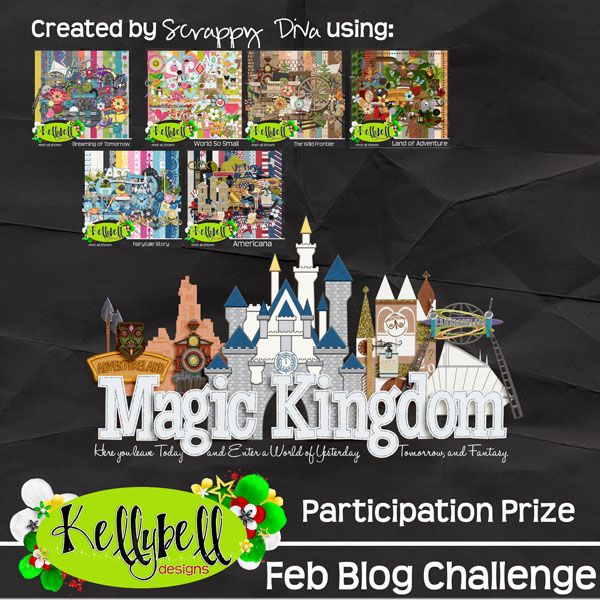 Here are the rules and instructions to participation in the Monthly Blog Challenge:
Create a layout that's Disney related that uses only one photo. Make the photo big or small, the choice is yours, but you can only use one photo.
Use as many elements and papers as you want. We want to see your creativity sparkle!
Layouts should be made with 100% Kellybell products or freebies (you are allowed to use a template from another designer). You are welcome to submit more than 1 layout.
Post your layout into the Challenges Gallery at Kellybell Designs by midnight EST February 28th. Participation prizes will be sent to the email address you have listed with Kelly's gallery so make sure you're registered and logged in with your User ID before posting your layout.

A random winner will be selected to win a $6.50 gift certificate to Kelly's store.

The winner will be announced the first week of March. That's also when the participation prizes will be sent out.
Make sure you check out all the collections inside the
Kellybell Designs Store
. You can find lots of layout inspiration at
Kelly's Blog
to give you some ideas of what to scrap for this challenge. Here's my page for the One Photo Only challenge.
I used Foolish Mortals to document Phantom Manor at Disneyland Paris. It was similar to the Walt Disney World Haunted Mansion, but different enough to be fun and exciting!